Leading out of COVID: Discover your New Normal
Take a reprieve and step into work that brings possibility, hope and joy out of this past year.
Leading out of COVID gives you a concrete way to work with your leadership team and name together what you want to carry with you into this next, unknown, stage of being a congregation. Gather with a group of leaders in your congregation for 4 Sessions and do the following:
Attend to stories about people's experiences during COVID
Connect these stories to what's next for your church.
Determine how to share what you have discerned in order to shape what's next.
Leader's Guide and Handouts for 4 Sessions
Free for a Limited Time
You can download Leading out of COVID free for a limited time. Learn more or access this free resource here:
Additional Resources and Support
Download Leading out of COVID and access the additional resources and support below.
John 21 and Dwelling in the Word
Below you will find an introduction to the John 21 text and a helpful framing as you prepare to use this with your leadership team.
Leading of out COVID Flyer
This flyer is intended as a communication tool. Download it here and share it with your leadership team and colleagues.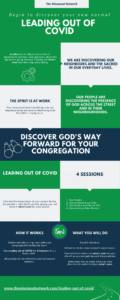 Coaching and Support
Whether you are working with your own leadership team or a group of leaders in your church system, TMN offers experienced coaching. Get action-oriented support to guide you as you discover next steps right where you are. Contact us to learn more about how we can support you.