Description
Church leadership teams have a critical role to play in seeing where God is at work and shaping congregational life around the mission of God. Invite your team to consider one of the ways how they can step into this role by starting with where they are and what they are most familiar with doing: making decisions.
The ways we make decisions are complex. Whether or not your congregation is going through a season of change, it's important to reflect on what is driving your planning and decision making. We bring assumptions to our decision-making processes that we usually take for granted and, therefore, aren't always aware of them.
Increase your team's awareness of what is driving their decision making. Consider next steps around how you might shape your work together in response to God's invitation.
What's Included
The Decision-Making Assessment includes: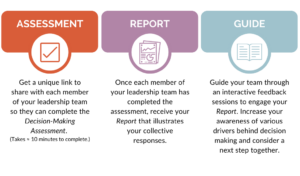 Who's Involved
The Decision-Making Assessment is for you, as a pastor to do with your leadership team. This can be your staff, Board, Session, Elders, Council, Vestry, etc.
What Comes Next
Your leadership team may be energized and curious about how to take some next steps after conversations together about what is driving your collective decision making. How do you begin to take steps to shape more of what you do in response to God? The Guide includes recommended next steps and an invitation to move towards action with your team.